Project Logo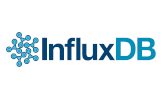 About:
InfluxDB is an open-source time series database (TSDB) written in Go. It is designed to handle high write and query loads and provides a SQL-like query language called InfluxQL for interacting with data.
InfluxDB is optimized for fast, high-availability storage and retrieval of time series data in fields such as operations monitoring, application metrics, Internet of Things sensor data, and real-time analytics.
It also has support for processing data from Graphite.
Sirius Offers:
We offer the following InfluxDB Services:
Next steps...
We would love to hear about how you are using InfluxDB, or are thinking about using InfluxDB, and we are sure you would find value in an expert, free and no-obligation discussion of your InfluxDB needs. Simply have us reach out to you or call us now on (509) 254-5005.