Project Logo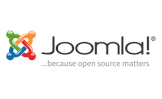 About:
Joomla! is a free and open-source content management system (CMS) for publishing web content. Over the years Joomla! has won several awards. It is built on a model–view–controller web application framework that can be used independently of the CMS that allows you to build powerful online applications.
Joomla! is one of the most popular website softwares, thanks to its global community of developers and volunteers, who make sure the platform is user friendly, extendable, multilingual, accessible, responsive, search engine optimized and so much more.
Sirius Offers:
Joomla! is a core SiriUS Technology (we used it for our own website for many years!), and we have been working with it for well over a decade.
We offer the following Joomla! Services:
Next steps...
We would love to hear about how you are using Joomla!, or are thinking about using Joomla!, and we are sure you would find value in an expert, free and no-obligation discussion of your Joomla! needs. Simply have us reach out to you or call us now on (509) 254-5005.