Project Logo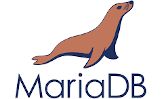 About:
MariaDB Server is one of the most popular open source relational databases. It's made by the original developers of MySQL and guaranteed to stay open source. It is part of most cloud offerings and the default in most Linux distributions.
It is built upon the values of performance, stability, and openness, and MariaDB Foundation ensures contributions will be accepted on technical merit. Recent new functionality includes advanced clustering with Galera Cluster 4, compatibility features with Oracle Database and Temporal Data Tables, allowing one to query the data as it stood at any point in the past.
Sirius Offers:
MariaDB is a core SiriUS Technology, and we have been working with it for a decade. We worked with its predecessor, MySQL since our founding in 1998.
We offer the following MariaDB Services:
Next steps...
We would love to hear about how you are using MariaDB, or are thinking about using MariaDB, and we are sure you would find value in an expert, free and no-obligation discussion of your MariaDB needs. Simply have us reach out to you or call us now on (509) 254-5005.